CAPFIT 50
TAUT WIRE MECHANICAL DETECTION FENCE
CapFiT 50 is an innovative and smart perimeter protection solution that detects any intrusion while eliminating false alarms. This concept consists of a wall of taut wires combined with a crush sensor inserted into a detection post. The latter continuously analyses relative variations in movement between the taut wires.
Any attempt to pull apart, cut or lean on it, is then detected. Using the differential principle, CapFiT 50 is totally insensitive to ground movement and temperature distortions.
This innovative solution can be installed on an existing fence, wall, overhang or as a freestanding structure.
Robust, simple to deploy (little civil engineering and energy input), streamlined design, customer return on investment, are some of the benefits that make CapFiT 50 an effective solution for the professional security market.
Main features:
Excellent detection quality
Very low number of false alarms: about 1 alarm / km / year
Can be adapted to all types of fences
Totally resistant to weather (rain, wind, snow, fog, extreme temperatures) and ground movement
Easy to install and maintain (only 1 connector per post)
Very long lifespan
Low electrical consumption
Optional: real time alarm management with a supervision system or remote monitoring centre
Available in the following versions: 1.00 m, 1.50 m, 2.00 m, 2.50 m, 3.00 m, overhang (0.80 m), customised
Download the technical data sheet
Fill in the following form to download the technical data sheet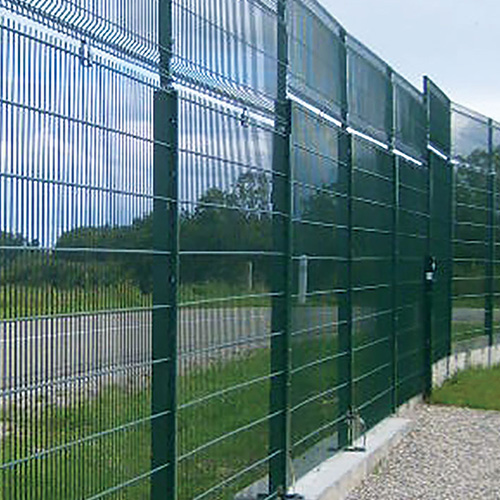 GUÉPARD
BREACH AND CUTTING DETECTION FENCE
The GUÉPARD detection fence looks just like a standard fence with welded panels.
Its major difference is in the design of the panel. It is made with a hollow structure so that it can incorporate a detector cable in a totally invisible way.
Any attempt to cut a panel triggers an alarm. GUÉPARD offers a mesh whose structure can fully detect (horizontal and vertical tubes) or partially detect (horizontal tubes).
The GUÉPARD posts are designed to hold different types of overhang (tilted, electrified, with concertina wire, etc.).
Main features:
Detects any attempt to cut the fence
Resettable detection overhang
Practically no false alarms
Overall aesthetics resemble a fence
No annoying alarms triggered by bad weather conditions
No detection when there are accidental shocks on the Guépard fence
Download the technical data sheet
Fill in the following form to download the technical data sheet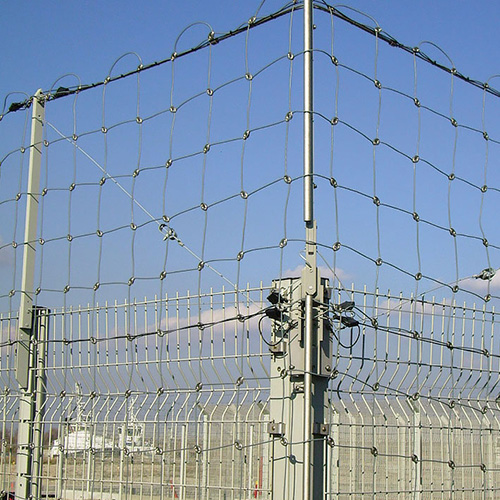 MANTA
DETECTION NET FENCE
The MANTA detection net fence is a detection system intended to provide perimeter protection for sensitive, strategic or confidential sites such nuclear stations, high-voltage stations, airports, detention centres and research laboratories.
The MANTA detection net fence is made up of a net fence with intertwined meshes held in place by shells. The coaxial cable located in the middle of the wire is analysed as "electrical continuity". Any attempt to breach the net fence by cutting or short-circuiting electrical conductors instantly triggers an alarm.
Main features :
Detects any attempt to cut or short-circuit
Very few false alarms
Easy to adopt on existing structure
Discreet and aesthetic system
Detection continuity in corners
Weather resistant
Protected from lightning and interference of industrial origin
Switch to dry contact or bus system alarms
Download the technical data sheet
Fill in the following form to download the technical data sheet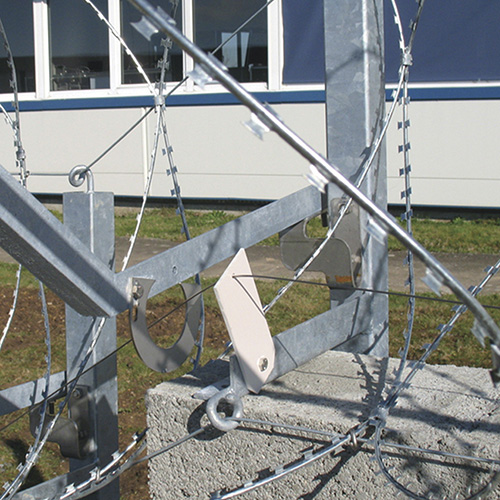 SCORPION
SPRING-MOUNTED DETECTION OVERHANG
SCORPION 50 is an overhang which can be adjusted to any type of wall or height of steel fence, for high-up detection and potential combination with concertina wire.
This solution makes it possible to handle multiple configurations encountered on installations and in particular differences in walls, levels, thickness of wall, steps, acroterion, etc.
Main features :
Overhang tilting detection (leaning)
Easy to adapt to any type of wall /fence
Simple and robust technology
Download the technical data sheet
Fill in the following form to download the technical data sheet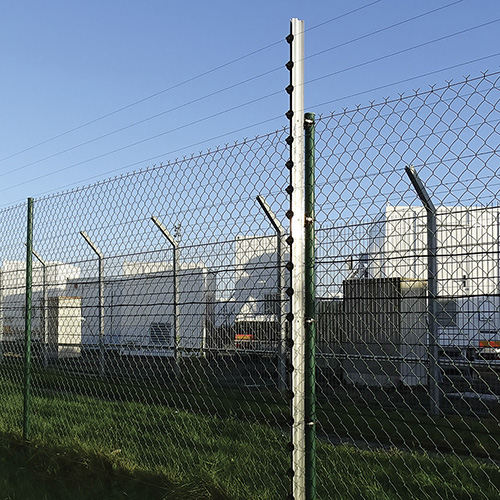 ANACONDA
WIRE-WALL ELECTRIFIED FENCE
The ANACONDA fence has a stainless-steel profile, which makes it possible to hold insulators, which creates a wall of electrified and detecting taut wires.
This aesthetic and discreet system can be installed as a freestanding structure or fitted to an existing fence. Its innovative design makes it compatible with most standard fences on the market, and makes it possible to electrify an existing fence or transform it into a detective fence at a lower cost.
JAGUAR 400: Electrified fence with capacitive detection of the touch
 COUGAR 400: Electrified fence which detects cutting
LYNX 400: Capacitive detection of the touch fence
Main features :
Effective and discreet system
Installation on existing fence or as a freestanding structure
Easy installation on all profiles
Good mechanical performance in severe weather conditions
Good electrical insulation for use with pulse-type high-voltage
JAGUAR 400
COUGAR 400
LYNX 400
Download the technical data sheet
Fill in the following form to download the technical data sheet